EMS, Health & Safety Education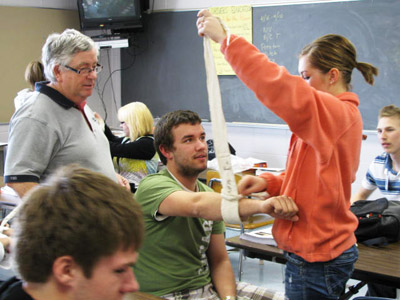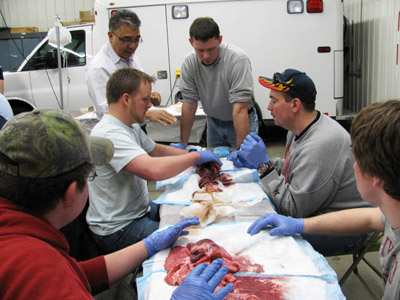 EMT Class heart/lung lab practice.
Instructors pictured: Jim Gillis (top), Alfredo Altamirano, PA.
Stevens County EMS education provides area business and industry, first responder teams, law enforcement, fire, ambulance services and healthcare providers with basic and advanced level emergency health and safety education programs.
Classes include: OSHA, CPR, First Aid, AED, "How to Save a Life", ACLS, PALS, EVOC, Emergency Medical Responder initial and refreshers, EMT initial and refreshers, and Paramedic training programs.
Emergency Medical Technician, (EMT)
in conjunction with the University of Minnesota - Morris
This class is designed for the pre-professional students at UMM along with any other student interested in healthcare careers. The class prepares students to complete the National and State certification examinations for Emergency Medical Technician (EMT). EMT certification is an excellent skill for any graduating student, community member or person interested in disaster or medical volunteer work. EMT certification is also a great addition to your resume and there are many jobs available for EMT's throughout the country in various occupations including firefighter, law enforcement, disaster services, emergency management, business health and safety management along with ambulance services, medical air ambulance and rescue services.

Next classes begin:
September 3, 2013

- Morris onTuesday & Thursday evenings from 6:30 PM to 10:30 PM


September 5, 2013 - Fergus Falls onTuesday & Thursdays evenings from 6:30 PM to 10:30 PM

EMT education is offered for 4 college credits and is also available to PSEO high school students at the Morris Area High School and surrounding high schools and home schools.
Call our office to register - 589-7421

Stevens County Ambulance work with the Sudden Cardiac Arrest Association - Western Minnesota chapter, provides FREE Hands-Only CPR and AED classes to area business and community organizations. "How to Save a Life" program has trained over 5,000 people in the past three years around west central Minnesota. Understanding the important and critical role that the bystander, co-worker, family member or neighbor plays in providing immediate medical care before the ambulance arrives, will save lives. Learn CPR and how to use an AED. What could be more important than learning this valuable potentially life-saving skill. Contact us for more information.

Click HERE for an interactive online training from HeartRescueNow.com and the Medtronic Foundation.
EMT, First Responder, ACLS, PALS, BLS and Paramedic refresher classes can be arranged. For more information, contact us at 320-589-7421 or email training@stevensems.com
Safety Education for Business and Industry
Course Offerings:
Customized corporate training in CPR, AED, and First aid
Hazard Communincations (Right to know)
Workplace Hazards (Lockout/tagout, electrical, temperature extremes, occupational noise)
Emergency Response Training (Emergency Action Plan, Fire prevention, workplace first-aid)
Materials handling (Forklift operations, overhead hoist operations)
Personal Protective Equipment (Eye, face, hearing, foot, respiratory)
Blood borne pathogen training
Permit-Required confined space training
Contact us at 320-589-7421 or email info@stevensems.com
EMT-Transitional Refresher:
Fall 2013 - Fergus Falls, MN - Bigwood Event Center
Friday 6:00 PM - 10:00 PM, Saturday & Sunday 8:00 AM - 5:00 PM - Click HERE to register
Fall 2013 - Stevens County Ambulance, Morris, MN
Friday 6:00 PM - 10:00 PM, Saturday & Sunday 8:00 AM - 5:00 PM - Click HERE to register
Paramedic Refresher Courses - 2013:
Fergus Falls, Minnesota - Bigwood Event Center

January 25, 26, & 27th, 2013 - (Part 1 of 2)
February 15, 16 & 17, 2013 - (Part 2 of 2)
(Friday 6:00 PM - 10:00 PM, Saturday & Sunday 8:00 AM - 5:00 PM)
Click HERE to register
Must attend both weekends for Paramedic refresher certification. May attend one or the other for continuing education credits.
For Registration information call 218-731-8216 or email Bob Griffith at bgriffith@ringdahlems.com
Paramedic Education Program
Emergency Training Associates and Ringdahl EMS - Minnesota & North Dakota. Class begins January 16, 2013 and applications are being accepted now for this program. The program is a 13 month certificate program and is designed to allow individuals to continue working while attending the program. One day a week and one weekend per month is the classroom portion of the program. ITV connections in many communities throughout Minnesota and North Dakota allow for students to participate in classroom lectures through ITV. Skills and some class time is spent in Fergus Falls, MN or Jamestown, ND classroom with all students of the programs. Applications are accepted continuously, with interviews arranged in September. Class size is limited to 15 students. Clinical experience is a large portion of the program and is in addition to the classroom requirements. You must have current EMT National or State certification along with CPR and some patient care work or volunteer experience prior to the beginning of the paramedic program. Contact ETA for more information or in Minnesota call 1-800-450-2216 and in North Dakota call 1-701-251-2273.
Download the paramedic program brochure