Stevens County Ambulance Service is an Advanced Life Support (ALS) ambulance service located in Morris, MN. Stevens County EMS provides all levels of medical transportation services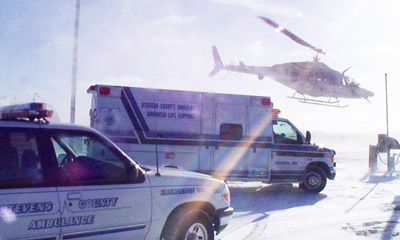 including BLS, ALS, Critical Care, inter-facility patient transfers, and 911 emergency response throughout Stevens County and surrounding area of western Minnesota. The service maintains five ALS equipped ambulances along with a staff of full-time and part-time EMT and Paramedic personnel. SCAS provides ALS intercept capabilities with a quick response vehicle to the surrounding BLS services in Pope, Grant, Swift, Big Stone, and Traverse counties when dispatched and requested. Stevens County EMS Education provides initial, refresher, and customized education courses for EMS agencies, healthcare organizations, business and industry.
Stevens County Ambulance and EMS Education offices are located at 209 South US Highway 9 in Morris.
Stevens County Ambulance & EMS Education provides FREE Hands-Only CPR and AED presentations for area business and community organizations. "How to Save a Life" program has trained over 7,000 people in the past five years around west central Minnesota.
Contact us at 320-589-7421, 1-855-88 SAFETY (1-855-887-2338) or email Bob Griffith, Education Director
About Us
Stevens County Ambulance and EMS Education is managed locally by a full-time director, Josh Fischer, EMT-P. He oversees day to day management, operations, human resources, scheduling, billing, licensing, education, and community activities. His close connection with community agencies and officials provides a well integrated mobile medical system of care with area emergency services and healthcare providers. In addition to ALS ambulance operations and services, Stevens EMS has provided high quality EMS education programs to West Central Minnesota for over 30 years. SCEMS provides medical education programs to well over 3,000 people annually. Community and business classes include basic CPR, AED and first aid certification, to more advanced in-hospital courses such as ACLS and PALS for physicians, nurses and paramedics. Our education coordinator, Bob Griffith, EMT/IC has over 25 year experience in EMS, is a retired firefighter, and previously worked in occupational health and safety for a large manufacturing corporation. We are dedicated to providing excellence in educational programs for fire, EMS, law enforcement, business, industry and the public.

Julie Tonn, Administrative/Billing Specialist has over 20 years experience with ambulance medical billing, Medicare, Medical Assistance and 3rd party payors. She is available to assist patients and their families navigate the complicated healthcare system and answer any billing questions or concerns.

The Stevens County ambulance service works closely with each of the area first responder teams in Chokio, Donnelly, Hancock, Cyrus, Herman, Kensington and the entire west central area of Minnesota. These teams are critical assets to the EMS system in the area and they provide exceptional care. The teams are dependent on volunteers in their community and these volunteers dedicate many hours of time training and responding to emergencies throughout the area. Together our services respond to over 900 emergency and non-emergency patient requests each year.
Morris is home to the University of Minnesota - Morris campus and the collaboration between the ambulance service and the University for over 30 years has provided UMM students with an opportunity to obtain Emergency Medical Technician certification, work experience, and income opportunities while attending classes at UMM. Typically "pre-med" students were the primary students seeking certification and patient care experience to enhance their applications to medical school, however students seeking many degrees and career paths are understanding the importance of emergency medical certification for all professions. These highly motivated university students provide many area healthcare facilities including the ambulance service with a steady resource of personnel to compliment our local community personnel.
UPCOMING CLASSES
EMT Education programs:
November 2, 1015 - Ortonville, Minnesota hosted by Ortonville ambulance service. Monday & Thursday evenings from 6:30-10:30pm.
January 11, 2016 - Fergus Falls, Minnesota hosted by Ringdahl ambulance service. Monday & Thursday evnings from 6:30-10:30pm.
January 19, 2016 - Morris, Minnesota hosted by Stevens County ambulance service. Classes are Tuesday & Thursday evenings from 6:30-10:30pm.

EMT - Refresher program:
January 29-31, 2016 - Morris, Minnesota - Friday 6:30-10:30pm, Sat/Sunday 9:00-5:00pm.
SAVE THE DATE - TOPICS IN EMS: Medical Education Conference
4th Annual Conference
Fergus Falls, MN - February 13, 2016 - 8 hours CE